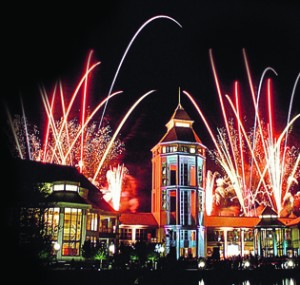 Have a BLAST celebrating Independence Day at World Golf Village's popular Red, White & Boom! fireworks display on July 3rd.  Watch for a new contest starting on our Neighborhoods of World Golf Village Facebook page on Monday, June 11th and running through June 15th. You could win a room at the Renaissance Resort at World Golf Village for the July 3rd festivities.
The World Golf Village Community Fireworks display, called Red, White & Boom!, is one of the biggest in Northeast Florida and is an ideal way for North Florida families to celebrate Independence Day. The event starts at 9:30 p.m. on July 3rd. Grab your lawn chairs or blanket and find a spot along the World Golf Village Walk of Champions for the grand display. A minimal parking fee is required for entry to the event.
You can also come early and enjoy a family style dinner at the Renaissance Hotel with entertainment by the acapella group VoicePlay.  More information is available 904-940-8587.