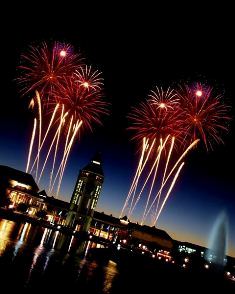 World Golf Village's 4th Annual Fireworks Display is right around the corner and Davidson Cares is inviting all our World Golf Village friends and neighbors to join them at the Davidson Realty office building on Thursday, July 3rd to barbeque, socialize and raise money for our local schools! The family-friendly event, title sponsored by MOJO Old City BBQ, will kick off at 5:30 pm and go until the fireworks show around 9 pm. All proceeds benefit Wards Creek Elementary, Mill Creek Elementary, Palencia Elementary and Pacetti Bay Middle School.
Reservations are required for the event. Tickets include parking at Davidson Realty, MOJO BBQ, soft drinks, waters, restrooms and family-fun. Cold beer will also be available on a donation basis. Tickets are $20 for adults and $10 for children under 15. Parking passes have to be purchased separately per car. The group will enjoy food and fun at Davidson Realty before walking to the PGA TOUR Golf Academy for the best view of the World Golf Village Fireworks Display!
Davidson Realty is located at 100 East Town Place, St. Augustine, FL 32092. You can purchase tickets by visiting www.davidsoncares.com or stopping by Davidson Realty. We hope to see you for loads of fun before one of the largest fireworks displays in North Florida!
For more information, please call Peyton Davidson at (904) 940-5000.