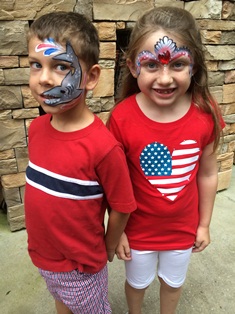 Davidson Cares is at it again! Davidson Realty's charitable foundation kicked off its fundraising efforts early this year with their First Annual Red, White & Boom Cookout on July 3rd, which tied into World Golf Village's annual fireworks show, one of the largest in Northeast Florida. The event was held at Davidson Realty's office building and guests enjoyed delicious bbq, family-fun games, face-painting, Mile Marker brews and more. Davidson Cares supports World Golf Village area based schools, including Mill Creek Elementary, Wards Creek Elementary, Palencia Elementary and Pacetti Bay Middle School.
MOJO Old City BBQ is one of this year's Davidson Cares' Title Sponsors and they provided the scrumptious food for all the attendees. The sold out event also offered great entertainment for the kid's! Fabulous Faces Entertainment was on hand providing free face painting, fun and festive balloon hats and swords, and balloon bracelets. The golf, Mary Kay, spa and kid's beach raffle baskets were a huge hit, too. A big thank you to Davidson agent Tim Whalen for bringing his Italian Ice business, Kool Skoops, to the cookout and donating proceeds back to our schools.
Davidson Cares is very thankful for all the support from our WGV neighbors and friends and they look forward to making next year's event bigger and better! To learn more about Davidson Cares, please visit www.davidsoncares.com.