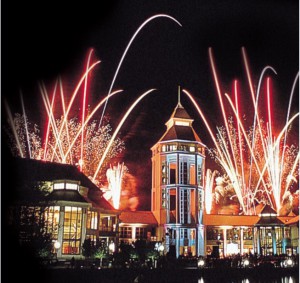 Get out the sparklers and stock up on party snacks – it's almost Independence Day! Once again, the World Golf Hall of Fame is celebrating in style with its annual festivities and fireworks display on Sunday, July 3.
World Golf Village's 4th of July fireworks have long been regarded as one of Northeast Florida's largest displays. Plus, the show gets better every year so it's a must-see this year!
Several World Golf Village activities are included in the event, including:
• The Legend of Tarzan playing at the IMAX 3D (movie package includes admission, popcorn, fountain drink and free parking, all for $20 per person) SOLD OUT
• The Museum Cafe will feature live music from Charlie Walker & Dustin Bradley on the patio from 6 p.m. to 9 p.m.
• Fireworks light up the sky after sunset!
The event is free and food and beverages will be for sale throughout the Village. Parking is $10. For more information call (904) 940-4123 or visit http://www.worldgolfhalloffame.org/visit-the-museum/events/.
See you there!