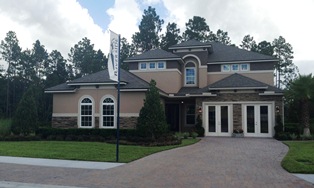 This month, Davidson Realty President Sherry Davidson and I are back with more about Riverside Homes. We visited President of Riverside Homes, Matt Roberts, to go behind the scenes on what sets Riverside Homes apart from other local builders. We learned a lot about what distinguishes them -from their design, customization and construction process to their customer service and energy efficiency. Join us in The Wheaton Model in Durbin Crossing to learn more!
Matt starts out by explaining more about their design process and how upgrades have become standard in their construction process. One thing that sets Riverside Homes apart is they incorporated taller ceiling heights, like 10 foot ceilings on the first floor and nine foot ceilings on the second floor that are standard when building with Riverside. They also include standard smooth walls and knock down ceilings. Riverside Homes is happy to customize a plan you have your heart set on, add on to your plan or create a new plan for you.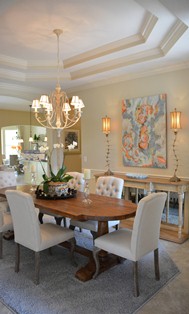 Another area that Riverside Homes excels in is their construction process and customer service. Matt realizes that communication is key for customers and that they want to feel like they are part of the process, so the customer is top priority throughout the entire construction process and long after they close on their home. A customer will begin the process with their sales agent and from there, spend four hours with a professional designer at their design center to make all the selections for the interior of the home. Next, is the pre-construction meeting before breaking ground.
The customer receives weekly calls throughout the building process to keep them in the loop and answer any questions they may have.  The pre-dry wall meeting will happen before the sheet rock covers anything up, so the customer can walk through the home with Matt to make sure everything (including electrical, HVAC , etc.) is in the right place. Lastly, Riverside Homes has contracted a third-party warranty company to do a walk-through with the customer towards the end of the building process, so the customer has an un-biased opinion on the home. If anything is wrong, the warranty company notes it and it will be fixed immediately. Then, time for closing! After closing, the warranty company meets with the customer two months after they move in the home and again 11 months after to take care of any issues that are warrantable and make sure they are satisfied.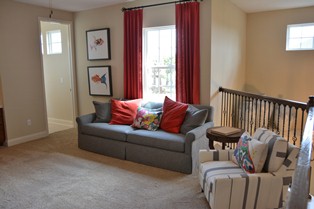 Energy Efficiency is a very hot topic these days and for good reason. It's important, not only for the cost of your utility bills, but also comfort in your home. Riverside Homes has risen above the expected with their energy efficiency techniques. Matt explains they have upgraded their insulation and HVAC system, they install vinyl low-e windows, and they have contracted a third party HERS rater that comes in for testing twice during the construction process before giving the home a rating. Riverside Homes comes in at least 30% better than a standard built home.
Matt also explains how important it is to control moisture intrusion (especially in Florida). Riverside Homes is different because they don't use sheet rock where the shower goes in the home. They don't hang sheet rock in the wet areas, they leave it for the tile company so one trades person is responsible and makes sure to seal it properly. They also go above and beyond on the outside of the home to make sure no outside elements affect the inside.
For more information on Riverside Homes, please give one of our Davidson Realty agents a call at (904) 940-5000 or stop by our office at 100 East Town Place at the entrance to World Golf Village!