Winston Churchill once said, "Without tradition, art is a flock of sheep without a shepherd. Without innovation, it is a corpse." The art of Thanksgiving cooking is certainly no exception.
Mashed potatoes, cranberry sauce (often tin can shaped) and roasted turkey will make their way to most of our tables this Thanksgiving, but there are other equally delicious ways to innovate traditional dishes. Here are some ideas to shake up turkey day for your family!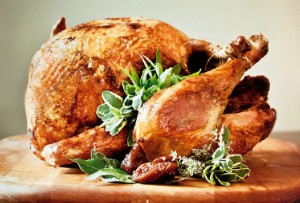 1. The turkey – reinvented. There are several methods other than roasting to cook a delicious, full flavored turkey. More and more people are freeing up oven space and opting to cook their birds outside through a variety of methods. Here are a few.
Grilled Turkey: For a more casual meal, you can grill your turkey in parts on your outdoor grill. Your bird must be separated into breast halves, leg quarters and wings since they all cook for varying durations, but that saves carving time later.
Smoked Turkey: Another way to utilize the grill is to smoke a turkey over soaked wood chips. Since the process takes a while, you may choose to brine (or soak in seasoned salt water) the turkey first to ensure it stays moist. But rest assured the flavor is worth the wait!
Fried Turkey: Another great outdoor method is deep frying. This is a quick (often within one hour) way to cook your turkey that ensures a fantastic, juicy end product that everyone will love. All you need is a propane burner, large (28-30 qt) pot and oil for frying. Please use caution though; this method can be dangerous. And never fry a turkey indoors!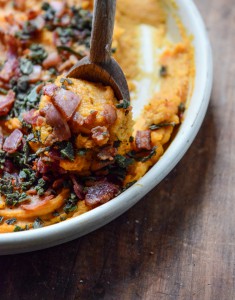 2. Live a little, on the side. People are having fun experimenting with Thanksgiving side dishes and the internet is proof of that. Lots of blogs and websites feature alternatives to traditional sides. Here are some yummy twists on our favorite side dishes to try:
• Stuffing: Pear, Prosciutto, and Hazelnut Stuffing
• Sweet Potatoes: Whipped Bourbon Bacon Sweet Potatoes
• Cranberry Sauce: Cinnamon Apple Cranberry Sauce
• Green Beans: Spicy Parmesan Green Beans & Kale
3. Go out with a bang! Aside from the turkey, the Thanksgiving meal is perhaps most cherished for its desserts. Much like side dishes, it is really easy to search online and find new, fall-inspired treats to top off your turkey day feast. Here are some ideas:
• Maple Cheesecake with Roasted Pears
• Pumpkin Pecan Ginger Snap Ice Cream
• Apple Harvest Pound Cake with Caramel Glaze
• Chocolate Black-Bottom Pie (with chocolate, rum-flavored ganache & macadamia nuts!)
Happy Thanksgiving!