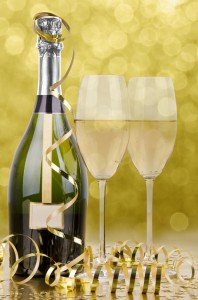 We're all busy with holiday hubbub and Christmas preparations, but before you know it we'll be asking each other the same post-Christmas question: "What are your New Year's plans?" Yes, the time has come to solidify where you will be ringing in 2016!
The First Coast has no shortage of great options no matter where you are in Northeast Florida. Here are some of the big events this year.
FERNANDINA BEACH
New Year's Eve with Crescendo Amelia (Crescendo Amelia, Fernandina Beach, starts at 8 p.m.) With all-night entertainment from a 21-piece band, who wouldn't want to go? Enjoy a classic cocktail or glass of wine while you dance the night away. Silent auction and raffle prizes will be offered, and all event profits go to the Nassau Humane Society.
DOWNTOWN JACKSONVILLE
New Year's Eve Celebration (Downtown Jacksonville) One of the area's biggest New Year's celebrations makes its home each year in downtown Jacksonville. This year's fireworks will be launched from a barge on the St. Johns River between the Hyatt and Double Tree hotels, and high above the St. Johns River from the Acosta Bridge. Food vendors will be available at Friendship Fountain, Hogan and Pearl Streets by the riverwalk, and under the Fuller Warren Bridge. Live music can be found at the Jacksonville Landing and throughout Downtown. Enjoy fireworks at midnight, welcoming 2016!
BEACHES
New Year's Eve Eats (One Ocean, Atlantic Beach, 6-10 p.m.) If you prefer a quieter celebration, enjoy a five-course dinner at Azurea. The menu includes specialty items such as Grilled Portabella & Eggplant Timbale, Atlantic Coast Oyster Tasting and Duo of South East Family Farms Beef. $110 per person with an optional wine flight of $35 per person. Reservations are required.
PONTE VEDRA
New Year's Eve Parties (Ponte Vedra Inn & Club, 7 p.m. – 12.30 a.m.) The Inn & Club will host an evening to remember with two on-site celebrations. In the Inn Dining Room, enjoy a variety of cooking stations and culinary displays throughout the Great Lounge and History Hall. Guests will be treated to live piano music. Hats, horns and party favors will be provided for all who attend. Tickets are $45 per adult and $11.25 per child (ages 4-10).
In the Surf Club, party goers will enjoy a plated menu with a combination of the Chef's leading-edge cuisine and traditional favorites. Come enjoy a live band and twist the night away on the dance floor. Guests receive party favors and a complimentary glass of champagne at midnight. Tickets are $160 per person.
ST. AUGUSTINE
Beach Blast-Off 2015-16 (St. Augustine Beach Pier Park, all day) St. Augustine's famous annual celebration is back again and better than ever! Visitors are treated to delicious food from 30 vendors, a beer and wine tent, local music, local artist displays, two 50-inch TVs keeping everyone in the loop on up-to-the-minute festivities in Times Square and around the world. Little ones will enjoy a kids' zone with nine inflatables, face painting, human hamster balls, a pirate magician, dunk tank, and the list goes on! Fireworks cap off the event for all to enjoy.
No matter where you choose to spend your New Year's Eve this year, have a safe and happy holiday!