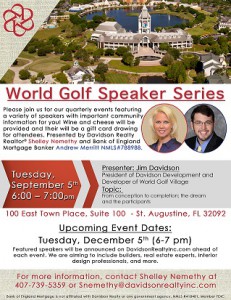 Join us at Davidson Realty's headquarters in World Golf Village on Tuesday, September 5, at 6 p.m. when Jim Davidson will take attendees through the journey of World Golf Village from concept to completion.
Jim, who is President of Davidson Development, was the driving force behind the community's strategy, establishment and growth.
Davidson Realtor Shelley Nemethy and Bank of England Mortgage Banker Andrew Merritt are sponsoring the free event, which is part of Davidson's quarterly series featuring real estate related information.
"The 30-year history of World Golf Village is fascinating and no one knows it better than Jim. We are in for a real treat!," said Shelley.
Refreshments will be provided by Bank of England. Davidson's office is located at 100 East Town Place in World Golf Village.
For more information, contact Shelley Nemethy at 407-739-5359 or Snemethy@davidsonrealtyinc.com.