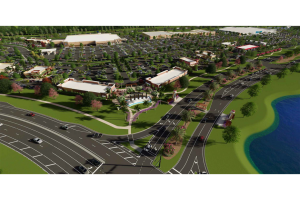 By next spring, northern St. Johns County residents will enjoy the benefits of close-by amenities just like our Jacksonville neighbors. With the development of the Pavilion at Durbin Park, World Golf Village and other northern SJC residents will have easy access to popular shops, restaurants and entertainment.
Tucked between Race Track Road and the new 9B connector, the town center is comprised of multiple phases and will cover 1,600 acres. Many of the Phase 1 businesses are expected to open by spring 2019. In fact, the new Walmart is already open.
Thanks to 9B's completion and the new CR 2209 roadway construction through Silverleaf (connecting CR 210 to SR 16), getting to Durbin Park will soon be easier for World Golf Village residents.
Once completed, Durbin Park will feature the largest shopping center in Northeast Florida. In addition to stores and restaurants, development is planned for hotels, office space and multifamily residential units. Durbin Park will also boast greenspace and bike trails.
Here is a full list of the businesses coming to Durbin Park:
Asian Fusion
AT&T Wireless
Baptist Health
Bass Pro Shop (phase 2)
Burlington
Care Spot
Chase Bank
Cinemark Durbin Park (12-screen movie theater)
read more +