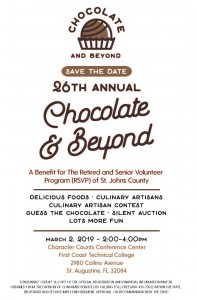 The 26th annual Chocolate & Beyond celebration is coming to First Coast Technical College this Saturday, March 2, from 2 to 4 p.m. Visitors will be treated to samples of locally made chocolates, desserts and other sweets from some of our area's finest restaurants and specialty shops.
Guests will have the chance to participate in a raffle, "Guess the Number of Chocolates" contest and silent auction. The auction will include hotel and restaurant gift certificates, sports memorabilia and admission tickets for local attractions and events.
Event proceeds benefit the Retired and Senior Volunteer Program (RSVP) of St. Johns County. Its primary focus is on recruiting, training and placing senior volunteers, which number nearly 150, into St. Johns County schools to mentor and tutor students in reading and math. The volunteers also assist in the Head Start preschool reading program.
read more +