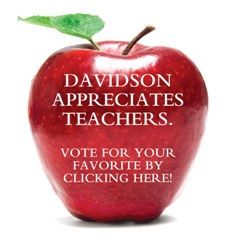 On Monday, Jan. 23rd the state Department of Education released their annual grades for county schools based on the 2011 FCAT results (Florida Comprehensive Assessment Test), and various other categories.  For the fourth straight year, the St. Johns County School District is ranked number one in the entire state of Florida! With 67 total school Districts and 3,078 public and charter schools in all of Florida, it is quite an accomplishment to be consistently at the top each school year.
A lot of credit needs to be given to the students throughout St. Johns County for their hard work, dedication and performances, which is reflected by their overall school grades.  But the teaching staff in St. Johns County needs a standing ovation for the above and beyond attitude they put forth everyday to ensure our children's bright futures.
That is why more than ever, we as a community need to come together and show our appreciation towards our local teaching staff. As of January 30th and running until February 13th, Davidson Realty's 4th quarter of Davidson Appreciates Teachers is kicking off. They will be collecting nominations for all the resource teachers at Mill Creek Elementary and Wards Creek Elementary Schools, including PE, Guidance Counselors, Art, Media Specialists, Music, Computer and Spanish. 
All you need to do to nominate your favorite teacher is email Peyton at PDavidson@DavidsonRealtyInc.Com or give her a call at (904) 940-5000 and let her know who you would like to nominate. We would like to know why you think your favorite resource teacher deserves to be recognized. Voting will start on the Davidson Realty Facebook Page on February 15th and go until March 15th. Your winner will be announced on March 20th right before Spring Break!