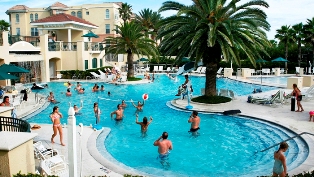 Serenata Beach Club, located between St. Augustine and Ponte Vedra, is the perfect place to unwind all year round on the wide, uncrowded beaches of St. Johns County. This 12,000 square-foot private membership beach club feels like a luxury resort, complete with two 4,000 square- foot swimming pools, a children's play pool with a variety of water features, fully equipped locker facilities and fitness center with personal trainers on staff, gourmet dining for lunch and dinner and, of course, an oceanfront location that is breathtaking ! Davidson Realty agent, Jock Ochiltree is not only a member at Serenata, but also a resident. He was happy to show us how he spends time taking advantage of the beautiful Florida weather in the video above.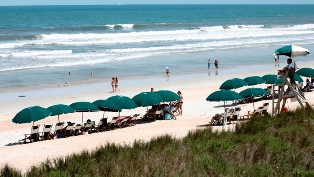 If Jock isn't rushing to an appointment, he loves to start his mornings with a cup of coffee overlooking the family pool with a cascading 12-foot waterfall. As he explains in the video, his grandchildren have a blast playing with the water buckets in the children's pool!  He and his wife, Leah, enjoy the short walk from Serenata to The Reef Restaurant for ocean front dining. Another perk of life at Serenata is calling ahead for your beach umbrella so that it's set up and ready when you decide it's time for sun!
The outside dining is a wonderful feature of this beach club. You can enjoy a cocktail overlooking the Atlantic Ocean and some outstanding food. The club has tons of activities happening all the time. Jock's wife plays Mahjong twice a week with friends. They also have a Book Club, trivia nights, a chili challenge, family night, happy hours, live music, holiday events, and more.
We hope you enjoy Jock's tour of Serenata Beach Club! For more information on becoming a member or buying at Serenata please call Jock at 904-940-5000 or email him at jock@davidsonrealtyinc.com.