We call Lynn Whitley, a Davidson Realty Agent and Turnberry homeowner, a "Super Resident" because she takes advantage of all that World Golf Village has to offer, almost on a daily basis.  The best way to get to know Lynn is to take a glimpse at how she spends her day. So we asked Lynn to tell us in her own words how she spent an average work day and we tagged along to snap some photos.
Friday, February 10
My day started with coffee and breakfast at home in Turnberry, then a quick ride to the fitness center at the King & Bear. When the weather is nice, (which is most of the time for us St. Augustine residents), I get some extra exercise by riding over on my bicycle, since it is only about four miles from where I live in Turnberry.  A morning workout gives me energy to power through my day.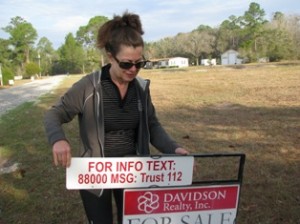 At Davidson Realty, we are doing away with flyer boxes and using new technology (texting) for  potential buyers to get information on our listings sent to their mobile phones on-the-spot. I stopped at my listing on Sluder Estates Lane on the way home from my workout and removed the flyer box, relocated my name rider to the bottom of the sign and added the texting rider to the sign.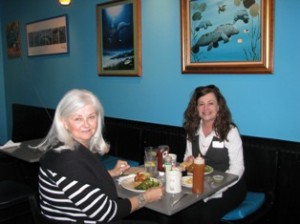 After getting cleaned up, I put in some time training my new assistant at the office and then I headed south to meet friend and Referral Agent Kathy Leonard for lunch at Manatee Cafe in St. Augustine.  Kathy is with Davidson Referral Network and is a huge part of my success over the past year. She has provided me with excellent leads, many of which have resulted in closed sales.
After lunch, I checked in on how things were coming with my assistant (my son, Chad) then headed out again to welcome a new resident to the area. Phil and Paula Holmes purchased a lot from me and are about to begin construction on their new home in the King and Bear. During the building process they are renting at The Residences in World Golf Village and I stopped by to make sure they were happy with the condo.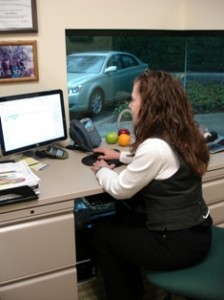 Finally, I'm back at my desk at the Davidson Realty office in World Golf Village to check on emails and decide how to spend Friday night with my husband, Allen. We often take in a show at the IMAX, have a bite to eat at CaddyShack or relax over coffee at the Renaissance Resort, but that day we decided to just hang out at home and enjoy our lanai and another beautiful evening in World Golf Village.