Contest draws 1,268 entries and plenty of water cooler chat!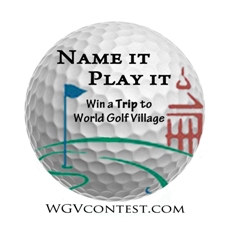 We knew we'd have some entries when we created the new Name It, Play It contest but when the entries climbed to over 1,000 we were pleasantly surprised.  The contest also generated a lot of buzz.  We heard neighbors talking about it in the fitness center, it was discussed on the golf course and we even heard chatter about it in Publix.  And then there were the emails…let's just say some people were passionate about their entries.  In the end, the entry with the most votes (591 to be exact) was Kingpin which cleverly speaks to Arnold Palmer's nickname as The King and, of course, the golf pin.
For those of you who missed it, Name It, Play It invited people to submit their suggestion for a name for Golf Hole 15 on the King & Bear Golf Course, Arnold Palmer's favorite hole on the course. The contest was a collaboration between The Neighborhoods of World Golf Village, Renaissance World Golf Village Resort and Beach Club and Honours Golf.  We look forward to making Name It, Play It an annual contest so if your name wasn't selected this time, there will be more chances for you to leave your mark on the finest golf course in Northeast Florida!  You can make sure you don't miss out on Name It, Play It and other World Golf Village contests by liking out Facebook page.