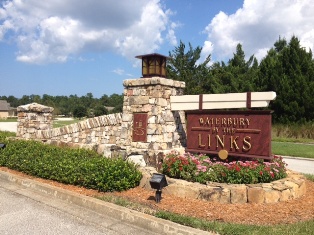 Welcome to Waterbury by the Links! In the video above, Davidson Realty Agent and resident golf course expert, Jock Ochiltree takes us on a tour through Waterbury by the Links East and West to learn more about this custom home community and the homes currently on the market. As Jock explains in the video, Waterbury is a neighborhood made up of 127 custom home sites framing holes two through eight of the world renowned King & Bear golf course, the only course collaboration by Jack Nicklaus and Arnold Palmer.
The community is separated into Waterbury East, situated along Crown Drive, and Waterbury West on Den Street. The North Gate of the King & Bear neighborhoods is conveniently located in the middle of Waterbury, providing immediate access for residents. The North Gate is also where Crown Drive and Den Street come together (Crown being a reference to Arnold Palmer, the King's Crown, and Den Street, referring to Jack Nicklaus, the Bear's Den).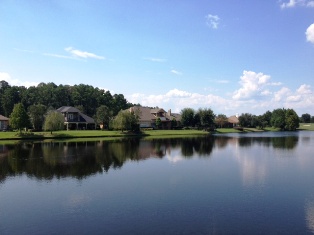 So what distinguishes Waterbury East and West? Waterbury East has 34 lots adjacent to the King & Bear golf course which offer 3/4 mile vistas over the golf landscape, including 13 lots with lake to golf views. Waterbury West is the truly quiet complement to Waterbury East. Den Street ends in a cul-de-sac overlooking the forest preserve, offering 49 lots similar in size and configuration to Waterbury East. Twenty-four of the lots with golf course views, 11 on conservation lands and 14 on the secure landscape buffer.
Most homes range between 2,500 and 4,000 square feet and are between $350,000 and $1,000,000. One of St. Johns County's A-rated elementary schools, Ward's Creek Elementary School, is located right outside the entrance to Waterbury. For more information on finding your dream home in Waterbury by the Links, give Jock Ochiltree a call at (904) 501-4625.