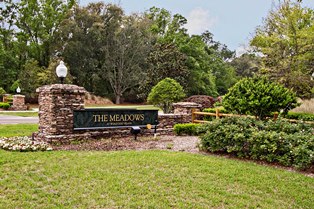 The Meadows is a quaint, family-friendly community located less than two miles from the neighborhood shopping center, Murabella Plaza, in World Golf Village. It was designed and developed with affordability in mind, plus all the relationship benefits of living in World Golf Village. Come along with Davidson Realty agent Lynn Whitley and I as we explore The Meadows!
Lynn and I first stop by Pacetti Bay Middle School, one of our A-rated St. Johns County schools. Pacetti Bay is located inside the entrance to The Meadows and was built on land donated to St. Johns County by World Golf Village. The school has 1,010 students that feed in from other local World Golf Village area schools that are all A-rated including Mill Creek Elementary, Wards Creek Elementary, and Palencia Elementary.  Pacetti Bay covers grades 6 through 8 and recently received the prestigious International Baccalaureate designation.
The Meadows is a fully completed neighborhood with all 400 home sites built out, but there are resale homes available for rent or purchase. Homes in The Meadows begin in the low $100,000s and go up from there. The home sites are in the 50' to 60' wide by 115' to 125' deep range, with many situated on the seven beautiful neighborhood lakes. The entire 4,000′ southern boundary and 1,200′ western boundary of the Meadows is adjacent to forested conservation land that has been preserved in perpetuity.
The Meadows offers homes to fit any family's needs. If you are interested in buying or selling in The Meadows, please give Lynn Whitley a call at (904) 940-5000.