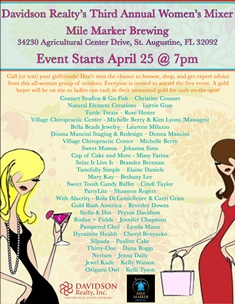 Calling all our female World Golf Village neighbors and friends! Get ready for Davidson Realty's Third Annual Women's Mixer on Thursday, April 25th at 7 pm. This awesome girl's night out will take place at Mile Marker Brewing located at 3420 Agricultural Center Drive near the outlet malls on SR 16. There's a lot to look forward to – more vendors than ever before, lots of delicious treats, and Mile Marker beer and wine! Everyone is invited to attend this free event and a gold buyer will be on site so you can cash in your unwanted gold for cash on-the-spot!
This year there are over 20 vendors offering a variety of products for sale. You won't want to miss the chance to browse, shop and get expert advice from this all-women group of vendors:
Cousart Studios & Go Fish (photography and women's fashions) – Christine Cousart
Jewel Kade (handcrafted jewelry and Poetry Custom Canvas line) – Kelly Watson
Turtle Treats (gourmet chocolate and designer soaps) – Rose Hester
Sweet Mamas (southern treats) – Johanna Sims
Seize It Live It (lifestyle apparel) – Brandee Brennan
Tastefully Simple (easy-to-prepare food and gifts) – Elaine Daniels
Mary Kay (cosmetics & skin care) – Bethany Lee
Donna Mancini Staging & Redesign (interior design) – Donna Mancini
PartyLite (candles and accessories) – Shannon Rogers
Gold Rush America (gold for cash) – Beverley Downs
Sweet Tooth Candy Buffet (candy) – Cindi Taylor
Stella & Dot (jewelry and accessories) – Peyton Davidson
Rodan + Fields (skincare) – Jennifer Chapman
Silpada (jewelry) – Pauline Cake
Dynamite Health (Mila, a health food product) – Cheryl Benyacko
Nerium (anti-aging products) – Jenna Daily
Thirty One (bags and totes that can be monogrammed) – Dana Boggs
Village Chiropractic Center (chiropractic care and massages) – Michelle Berry & Kim Lyons
Natural Element Creations (custom designed water fountain art) – Lorrie Goss
Origami Owl (custom jewelry) – Kelli Tyson
Cup of Cake and More (custom cupcakes) – Missy Farina
With Alacrity (fashion accessories) – Rola DeLamielleure & Carri Grass
Pampered Chef (kitchen essentials and accessories) – Lynda Mann
Many vendors have donated items for raffle with proceeds going to Davidson Realty's non-profit foundation, Davidson Cares, which benefits our local St. Johns County public schools including Wards Creek Elementary, Mill Creek Elementary, Palencia Elementary and Pacetti Bay Middle School.