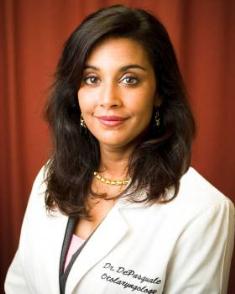 If you are like many us and suffer from allergies or sinus problems, you well know the value of an Otolaryngologist – also known as an Ear, Nose & Throat doctor. One of the premier ENT physicians in Northeast Florida is Dr. Kalpana DePasquale, DO.
Dr. DePasquale and her staff at St. Augustine Ear, Nose & Throat have garnered a reputation for stellar personalized care from highly trained and experienced professionals. With a staff of nine full-time employees, St. Augustine ENT serves St. Augustine, South Jacksonville, northwest St. Johns County, Palm Coast, and Palatka.
We recently caught up with Dr. DePasquale to learn more about her and her practice.
What made you interested in the field of Otolaryngology?  I was intrigued by the complexities of the anatomy and the numerous areas in which one can sub-specialize.  I enjoy the ability to treat male and female patients from pediatric to geriatric age groups.  I also enjoy being able to provide multiple treatment options ranging from medical therapy and minimally invasive techniques to aggressive surgery.
What are the most common reasons your patients come to see you?  The most common reasons patients schedule an appointment are for sinus/allergy complaints, voice disorders, dizziness, hearing loss, and tinnitus.

What made you choose World Golf Village in which to live and work?  World Golf Village is a rapidly growing segment of St. Johns County.  I currently have hospital privileges at Flagler Hospital and Baptist South, and I see many patients from this area.  I decided to devote some office time to be more available in the north St. Augustine area so that the people who live in this area have more options for their health care. I live in the World Golf Village area because I enjoy the serene, tranquil environment of the neighborhood.  I enjoy the proximity to St. Augustine and to Jacksonville.
You recently expanded your hours in your Murabella location. Any other news in the pipeline?  Yes, we are in the process of putting a CT scanner in our main office location in St. Augustine. We are also proud to announce our new physician, Dr. Aziz, who will be joining us in October. 

Finally, I have launched my new medical grade skin care line, Avanti Rx.  We have a launch event planned at our main St. Augustine office (1301 Plantation Island Drive S., Suite 401) on Thursday, September 19.
Call (904) 461-6060 for more information about the Avanti Rx launch event, which will include light refreshments, discounts, and door prizes! The event starts at 4 p.m. and wraps up at 8 p.m. A percentage of all Avanti Rx proceeds at the event will be donated to Kids Bridge Family Visitation Center in St. Augustine.
Dr. DePasquale also provides medical spa services at Avanti Medical Spa, located at St. Augustine Ear, Nose & Throat's main office.
For patients in the WGV area, Dr. DePasquale is available at the World Golf Village location (The Shoppes at Murabella, 52 Tuscan Way, Suite 203) every Wednesday from 8 a.m. to 12 p.m. Visit www.saent.net to find more information and schedule an appointment or call (904) 461-6060.
St. Augustine Ear, Nose & Throat recently became a Davidson Cares Title Sponsor, which uses donations to benefit local schools.