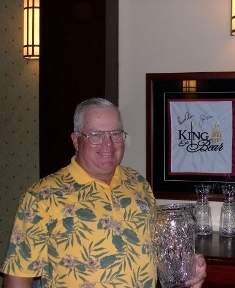 If you ask Don Poppleton what inspired him and his wife Barbara to relocate from New England to World Golf Village more than 10 years ago, he might say it's partly in the name.  A champion golfer, Don now enjoys beautiful views of the King & Bear from his back yard in Windmill Estates and close proximity to top notch courses and amenities.
Don has also secured a position as a notable contributor to the community.  He is currently serving in his second term on the Member Advisory Committee for the World Golf Village Golf Courses Club, and concluded his term as President last year.
We recently caught up with Don to ask some questions about himself and his experience here in World Golf Village.
What brought you to the First Coast area?   I am originally from Pittsburgh and Barbara is from Virginia. We moved here in 2003 after vacationing both here and Palm Coast.  We moved into Windmill Estates after enjoying a condo at the Residences for a winter and decided this was the place for us.  We were the 500th family to move into the World Golf Village at the time. 
What do you like most about living in World Golf Village?  The attraction was most certainly the golf at not just one but two fine quality courses.  The proximity of the tourist attractions and many restaurants in the St. Augustine area was the secondary but important draw.  At the time, Palm Coast had nice courses but limited other activities including restaurants.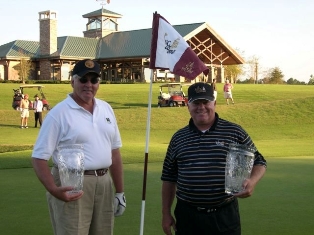 What activities fill your schedule?  I try to play golf every day.  I don't succeed, but I do try.  My wife plays about twice a week but does not enjoy the sophomoric humor of my game and thus confines her play to the ladies league.  I do play seriously at times and have won championships at my age bracket five times.  We also try to keep up with the game on a larger scale and have volunteered at the Hall of Fame for ten years.
A piece of the summer is still spent up north as we have a place at the beach in a little town in New Jersey known as Stone Harbor.
What is your professional background?  I previously worked as a the president of a bank in Pittsburgh, which merged with PNC where I was put in charge of merging acquired subsidiaries into the PNC system.  This included dealing with the regulators of all the merged banks from the Federal Reserve, Comptroller of the Currency, FDIC, and all the relevant State banking authorities.  This also included a $70 billion mortgage operation.
What is one thing your World Golf Village friends would be surprised to learn about you?  My wife of 44 years and I met on a blind date when I was in the Marine Corps. After Vietnam, I got out and directly into banking.
Also, I am a crazy Notre Dame alumnus, but I have actually calmed down over the years. Now, I just get mad when they lose.