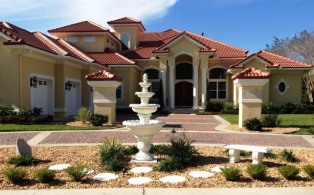 Spring will be here before we know it – and with it the need to clean, landscape, and spruce up the lawn for warmer weather.
This year, the name to know is Hibbard Lawn Care. Serving all of St. Johns County, the family owned company offers full scale yard services including mowing, trimming, edging, landscaping, mulching, weeding, sodding, and clean up. Owner James Hibbard Jr. recently answered some questions about his company and its services.
Tell us about your professional background.  I graduated in 2007 with four years of turf management. I have experience in lawn care, landscaping, sod replacement.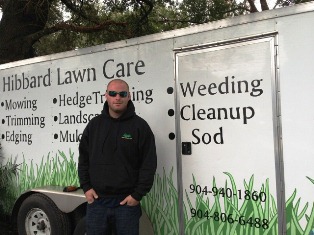 How did Hibbard Lawn Care get its start?  While going to school, I mowed the neighborhood lawns and a small mobile home park. I also started buying my equipment. In 2007, I started my business with 25 clients. My mother Regina (Reggie) Hibbard would trim bushes and weed the beds by hand while I mowed, edged, and trimmed. Today, I have two trucks and a good crew. Reggie does all the scheduling and proposals. We work as a team to provide our clients with quality service.
Tell us about your services.  We offer a full scale of lawn maintenance and landscaping. Our basic service includes mowing, edging (flower beds, sidewalk, and driveways), string trimming, and blowing.
Full service includes the basic service plus bed maintenance (hand pulling of weeds) and hedge trimming and cleaning up clippings (within six feet). Plus, we work closely with a pest control company to keep your lawn looking it best.
Landscaping includes planting plants, trees, bushes, and palms. Also, we handle mulching, sod replacement, seasonal planting, as well as storm clean-up (e.g. leaves) and seasonal clean-up.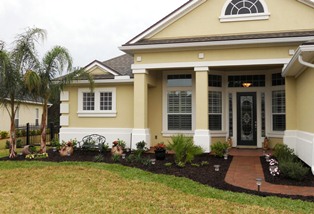 What sets Hibbard apart from other lawn care businesses?  We are family owned and operated. I am the lawn technician and we follow up with our clients to make sure they are satisfied with no concerns.  We provide exceptional lawn and grounds care to St. Johns County businesses and residences. We have a passion for grounds keeping and maintaining the properties we serve in a quality way.  We are an extension of each client and customer's image by delivering a polished and well groomed first impression every time someone visits or drives by.
What do you like best about living and working in the St. Augustine area?  We love living in St Augustine. It is beautiful and unique. We have a loyal client base that refers us to their friends and family.  Our goal is to provide professional quality lawn care services tailored to their needs. We are building our reputation – one lawn at time.
Pricing is tailored each client's needs. For fast and a free estimate visit www.hibbardlawncare.com, or contact Reggie Hibbard (reggie@hibbardlawncare.com or 904-806-6488).
Hibbard Lawn Care is licensed and insured, and works with Commercial and Residential properties, HOAs, property managers, and Realtors.  Referral discounts are also available to clients.