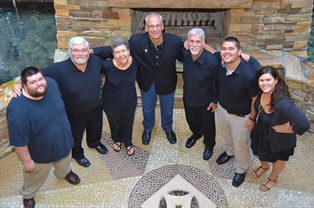 Davidson Development is celebrating its' 25th year as one of the First Coast' premier development companies. The company was launched in May 1989 by Jim Davidson and Ed Gil after they purchased the development rights to World Golf Village from a partnership group formed in 1987.
An authority in the selection, planning, permitting, construction and marketing of long term, large scale mixed use real estate projects, Davidson Development has cultivated a reputation for smart real estate investments that continually yield high returns for investors.
Says Davidson Development President Jim Davidson, " Our strengths are based on our in depth knowledge of the market, our relationship with the regulatory agencies, the trust of our partners and an absolute belief in our decision making ability. As with most businesses knowledge and timing are everything. Knowledgeable decisions made on a timely basis is the key to success. That is what we do."
Jim and Ed had both worked for Arvida Corporation throughout the 1980's. Arvida was one of the most successful resort development companies in the United States at that time. Both had initially worked in the financial area with Jim evolving into senior divisional management responsibilities after becoming Chief Financial Officer for Arvida. In 1987, Jim, Ed and many other Arvida executives formed a Florida development company to focus on large mixed use communities. It was during this time period that Jim and Ed became directly involved in a 6,300 acre project that they would eventually evolve into what is now World Golf Village. After purchasing the development rights for World Golf Village from their ex-Arvida partners and forming Davidson Development they became the master developers of World Golf Village.
"World  Golf Village was a natural fit given the experience Ed and I had received from our time at Arvida. For most new companies the thought of taking on the acquisition, permitting , development and marketing of a 6,300 acre mixed-use project would have been unthinkable if not impossible, but that was what we had been trained to do – one step at a time" Davidson says.
Today World Golf Village prospers and has been consistently one of the top selling communities in the First Coast marketplace with over 4,000 homes completed and occupied and more than 18,000 residents calling the World Golf Village area home. "We have been blessed. Very few developers are fortunate enough to conceptualized and actually create a community the size and magnitude of World Golf Village" says Davidson.
Along the way there have been many more projects and real estate opportunities for the company which also specializes in helping families with large land holdings maximize the value of their property.
Management and ownership now includes Sherry Davidson, President of Davidson Realty; Rick Pariani, Vice President of Design and Development; Peyton Davidson, VP of Marketing and Social Media; Matthew Davidson, Director of Technology and Sam Davidson, VP of Special Operations.
Jim adds, "We have enjoyed watching this company grow and feel strongly that over the last 25 years we have had a very positive impact on making the First Coast, and in particular St. John's County, a better place to live, work and play. We look forward to the next 25 years"