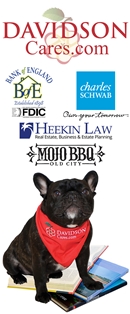 Davidson Cares, the corporate giving program of Davidson Realty, Inc., is thrilled to welcome its newest Title Sponsors for the 2014-2015 school year! This year's title sponsors include MOJO Old City BBQ, Bank of England, Heekin Law and the Jacksonville branch of Charles Schwab. Title sponsors are those at the $2,000 giving level and are featured prominently in Davidson Cares' marketing and advertising collateral and media outreach.
Says Davidson Realty President Sherry Davidson, "We would like to thank each of our sponsors for supporting our mission to provide grants that help local schools get what they need for their classrooms. We are all excited to have another great year for Davidson Cares."
The non-profit organization is entering its third year offering support to local schools in the World Golf Village area, including Mill Creek Elementary, Wards Creek Elementary, Palencia Elementary and Pacetti Bay Middle School. During the 2013-2014 school year Davidson Cares raised more than $20,000 for schools to help purchase books and updated technology as well as fund important programs.
Davidson added, "Through the support of our sponsors, parents, students and community members, Davidson Cares has grown beyond our expectations in the past two years. Participation in our online student video contest and our successful events are proof of the outstanding support we receive."
Visit DavidsonCares.com to learn more about the program and follow Davidson Realty on Facebook to stay in the know on upcoming Davidson Cares events!
Davidson thanks its generous sponsors!