Halloween is one of the year's most fun-filled, candy-coated holidays. It's always exciting for kids to sift through their bounty after trick-or-treating… and for parents to swipe their favorite fun size candy bars for themselves!
While these treats are positively delicious, I've been looking for easy and healthful treat options to keep around that balance the good with the bad. Looking at online resources like Pinterest.com, it's not hard to find creative and delicious recipes that everyone will love. Here are just a few super easy and healthy options disguised as devilish treats!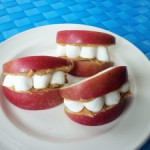 Apple Monster Mouths
2 large red or green apples
2 cups peanut butter
1 bag mini marshmallows
1. Cut apples into slices (8 slices per apple) and separate into pairs. Spread peanut butter on the insides of each pair to make the gums.
2. Place marshmallows between the apple pairs to make teeth.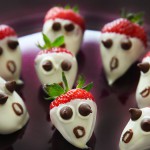 Strawberry Ghosts
30 fresh strawberries
8 oz white baking chocolate, chopped
1 tsp shortening
1/8 tsp almond extract
1/4 cup mini semisweet chocolate chips
1. Wash strawberries and gently pat with paper towels until dry. In a microwave-safe bowl, melt white chocolate and shortening at 50% power. Stir until smooth and then stir in extract.
2. Dip strawberries in chocolate mixture. Place on a waxed paper-lined baking sheet, allowing excess chocolate to form the ghosts' tails. Immediately press chocolate chips into the coating for eyes. Freeze 5 minutes.
3. In a microwave, melt remaining chocolate chips. Stir until smooth. Dip a toothpick into melted chocolate and draw a mouth on each ghost.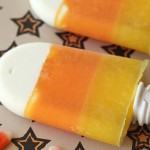 Candy Corn Popsicles (great for a warm Florida Halloween!)
6 popsicle molds (or 6 small Dixie-type cups)
6 popsicle sticks
Low-fat Greek yogurt with a bit of honey stirred in for sweetness
Orange juice
Pineapple juice
1. Fill molds 1/3 of the way with yogurt mixture. Cover the containers with plastic wrap and poke the sticks through so they stand straight up. Let freeze.
2. Remove plastic wrap. Fill the next third with orange juice, let freeze. Then fill to the top with pineapple juice, let freeze.
Visit Pinterest.com and AllRecipes.com for more creative Halloween treat ideas. Have a hauntedly Happy Halloween!