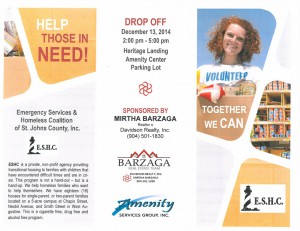 Davidson Realty agent Mirtha Barzaga will be sponsoring a food and supplies drive this Saturday, December 13 between 2 p.m. and 5 p.m. at the Heritage Landing Amenity Center. All are invited to donate to the drive, which will benefit the Emergency Services & Homeless Coalition of St. Johns County. The drive is co-sponsored by Amenity Services Group, Inc.
The Coalition, which provides transitional housing to families and children who have experienced significant challenges, is in need of the following: baby items, building supplies, cleaning products, household items (e.g. light bulbs, garbage bags, batteries), home furnishings, paper products and kitchen and non-perishable food items. Visit http://homelesscoalitionstjohns.com/ to view the organization's full wish list.
Says Mirtha, "When I heard about the great program the Coalition has put together, I wanted to take action. They are helping so many people get back on their feet and these donations are vital to their success."
For more information about donating, contact Mirtha Barzaga at (904) 501-1830 or mbarzaga@davidsonrealtyinc.com.