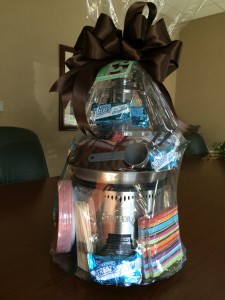 Peanuts Cartoonist Charles Schulz famously said, "All you need is love. But a little chocolate now and then doesn't hurt." That is certainly true and Davidson Realty's First Quarter 2015 Referral Basket is a great way to share the love – and chocolate – with your friends.
The fondue-themed basket is a prize that promises to "Sweeten Your Celebrations!" The basket includes the following:
ð Sephra Chocolate Fountain
ð Glass Serving Tray
ð Premium Chocolate
ð Wooden Fondue Skewers
ð Rice Krispy Treats
ð Marshmallows
ð Plates & Napkins
ð $25 Publix gift card
Anyone who refers a buyer, seller, tenant or home to be sold or rented between now and March 31 has a chance to win the basket. Contact Davidson Realty at (904) 940-5000 for more information.