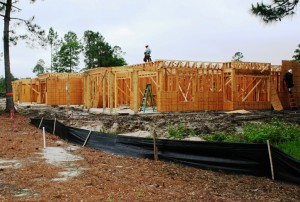 Davidson Realty is pleased to announce that construction has begun on 52 luxury condo units in La Fontana at the Residences, located here in World Golf Village. La Fontana's construction is just part of the recent rise in building industry jobs.
According to the Jacksonville Business Journal, Florida experienced a 9.7 percent increase in construction jobs so far in 2015, including an increase of 6.1 percent from February to March.
"We are thrilled to see construction moving again throughout Northeast Florida as well as the entire state," said Davidson Realty President Sherry Davidson.
La Fontana's first building, which includes 13 units, went vertical earlier this month. Eleven of those units, which are slated to become available beginning in August, are now available for sale through Davidson Realty.
"Construction is moving right along in La Fontana," Sherry said. "We're just starting to get interest so buyers have great location options at this point."
The condo units start at 1,900 sq. ft. and include a private single car detached garage, gourmet kitchens, custom designed master bathrooms and other state-of-the-art features.
The developer is World Golf Village Residential Ventures I, LLC.
Visit the La Fontana model and sales center at 90 Champions Way. It's open seven days at week! Questions about La Fontana? Contact Davidson Realty Agent Mirtha Barzaga at (904) 940-5000 or mbarzaga@davidsonrealtyinc.com.