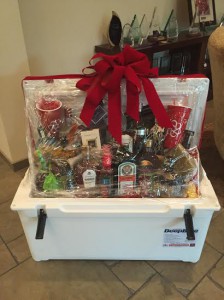 Davidson Cares is back with their 2nd Annual Cooler & Cocktail Raffle and this year they are putting their support behind the boys at St. Augustine Youth Services (SAYS)! SAYS provides a safe, therapeutic home for boys between 6 and 18 years old from throughout Florida who have suffered from physical or sexual abuse and/or severe neglect. Davidson Cares is teaming up with SAYS to help provide support for the boys' everyday needs, as well as help fund construction of a new building for the older boys.
This year's Engel Deep Blue Cooler includes 17 types of top-shelf liquors, as well as a variety of cocktail party favors. Bottles include Bombay Sapphire Gin, Beefeater Gin, Jagermeister, Tanqueray Gin, Grey Goose Vodka, Belvedere Vodka, Gentlemen Jack Whiskey, Patron Silver Tequila, Mocambo 20 Year Rum, Crown Royal Special Reserve, Woodford Reserve Bourbon, Crown Royal Hand Selected Barrel Whiskey, Don Julio Anejo 70th Anniversary Tequila and 2001 Glenrothes Scotch. Ticket prices are one ticket for $10, six tickets for $50 and 15 tickets for $100. All proceeds benefit SAYS.
Tickets are now on sale at Davidson Realty (100 East Town Place, St. Augustine, FL 32092) and online at www.davidsoncares.com. The cooler raffle winner will be drawn on January 21st, 2016 at the grand opening of Davidson Realty's Jacksonville Beach location at 1500 Beach Boulevard, Suite 215, Jacksonville Beach, FL 32250 at 5:30 pm. Ticket holders do not need to be present to win. Participants must be at least 21 years old to enter. Thank you to Bank of England for sponsoring this year's Cooler & Cocktail Raffle!
For more information, visit www.DavidsonCares.com or contact Peyton Davidson at pdavidson@davidsonrealtyinc.com or (904)940-5000. Get your tickets today to support a wonderful cause!