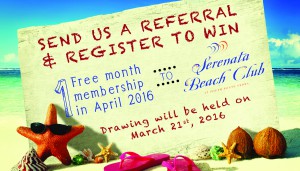 Davidson Realty recently rolled out its First Quarter 2016 referral contest and the prize is their best yet: a month-long membership at Serenata Beach Club! Anyone who refers a buyer, seller, tenant or home to be rented with Davidson is automatically entered to win the quarterly prize.
Located in Ponte Vedra Beach, Serenata Beach Club is widely regarded as one of Northeast Florida's most luxurious coastal resorts – making this quarter's prize one of the most valuable Davidson has offered! It's also the closest private beach club to World Golf Village. Past prizes have also included beautiful gift baskets and gift cards to local eateries.
"We feel so appreciative for each referral we receive so we wanted to go above and beyond for this quarter's prize," said Davidson Realty President Sherry Davidson. "Serenata offers members an extraordinary experience that we're excited to pass on to the winner."
Referral entries are now being accepted and the winner will be drawn on March 21.
The free membership will span the month of April 2016 and includes access to all Serenata amenities, including its 12,000 sq. ft. Mediterranean style clubhouse, several onsite pools, beach equipment, poolside cafes, spa services, newly renovated fitness center, family activities, events and member partnership perks like paddle boarding and ecotours.
Know anyone looking to buy, sell, rent or rent out their home? Contact Davidson Realty today at (904) 940-5000 or visit www.DavidsonRealtyInc.com!