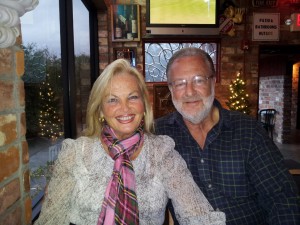 The World Golf Village area home to people with a wide bevy of interests. From sports and games to books and films, there is always a neighbor close-by with whom you can connect and share an interest. One such neighbor is the Greene family.
Jay and Leigh moved to their home in the King & Bear's Laterra community in May of last year and have come to be right at home in World Golf Village. As major film buffs, the Greenes enjoy taking in movies, exploring the local food scene and walking their beloved Boston Terrier around their new neighborhood.
We recently caught up with Leigh to learn more about their interests!
Are you both originally from Northeast Florida? We've lived in northeast Florida for 15 years. We're New Yorkers and left the Big Apple in 1995.
What do you like best about living here in World Golf Village? The proximity to historic St. Augustine, access to all of the northeast Florida highways, which give us an opportunity to conveniently travel 'north and south'. Living in the King and Bear is especially relaxing and safe – We walk our dog on miles of beautiful pathways as well as bicycling throughout the neighborhoods.
Tell about a bit about your professional backgrounds. Jay has a freight logistics company and I own a public relations company that specializes in the travel and food (hospitality) industry.
What do you like to do in your free time? We are avid film fans, we enjoy antique hunting, exploring the growing dining scene in northeast Florida is 'top on our list' and we spend a lot of social time at Epping Forest Yacht and Country Club.
Tell us about your family – including any pets! Our little darling is Cami – the Boston Terrier. Many people recognize her before they know who we are – since dog-walking is VERY popular in the World Golf Village neighborhoods.
What was the last movie you watched? This month we have seen nearly every movie nominated for the international awards (Golden Globes and Academy Awards) – Martian, Revenant, The Danish Girl and Spotlight.
What is your all-time favorite book? Jay's favorite book is Den Of Thieves and mine is ANY non-fiction historical memoir.
If you could go anywhere in the world on a dream vacation, where would you go and why? Jay chooses the coast of Spain and Mediterranean because of its unique culture and beauty. I would like to take cooking classes throughout all of the European culinary capitals.