World Golf Village offers a welcoming environment where residents can put up their feet and relax. Nevertheless, it is a magnet for adventurous people to love to travel and explore. A great example of this type of resident is Michael and Yvonne Tyson. The Tysons recently purchased a home in Turnberry, one of World Golf Village's most sought after communities for buyers.
Between settling into her new home and chipping away at the couple's vacation bucket list, Yvonne recently took a few minutes to answer some questions for us.
What made you choose Turnberry as your new home? My husband and I are quite fond of the St. Augustine and World Golf Village area. With this in mind, upon deciding to purchasing a new home, we immediately thought of World Golf Village. We toured various neighborhoods and quickly realized this was the site for our new home and family. The aspect of safety, various activities hosted by World Golf Village, and the friendly family atmosphere is absolutely perfect for our current and future wants and needs.
What is your favorite aspect of living in World Golf Village? The sense of "small town" community less than 15 minutes away from Jacksonville, Florida, is our current favoring aspect of World Golf Village. We're eagerly looking forward to becoming part of the World Golf Village community.
Where are you from originally? My husband was born and raised in West Palm Beach, Florida. I, on the other hand, grew up in a military family, which is always an interesting question to answer. My family is originally from New York, yet I spent the majority of my childhood in Havelock, North Carolina.
What do you like to do in your free time? We're quite the adventure couple. Always looking forward a weekend getaway trying on new cities and immersing ourselves into local culture and food!! I can honestly say we're serious foodies.
Tell us a little about your family. We're a newly married couple awaiting to start our family in the beautiful World Golf Village community. Unfortunately, our fur baby Donkee just passed away, yet his memory will live on in our new home. Once we get settled, we plan on rescuing another fury friend in need.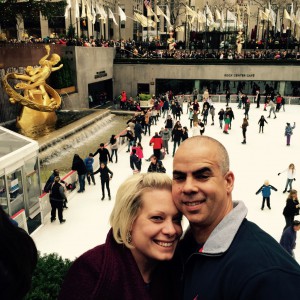 What was the last book you read? My husband: "Among Heros," by Brandon Webb. Myself: "Double Cross," by James Patterson.
What is the best vacation spot you've ever visited? We're steadily building and completing our vacation bucket list; thus far I must say our best couple getaway has been our whirlwind trip to New York City.
Tell us a bit about your professional background. My husband has a been a proud and honorable Senior Chief of the U.S. Navy for the past 25 years with several deployments under his belt. Currently, he is stationed at NAS Jax with the specialty in avionics. I am a Nurse Practitioner, with a specialty in Family practice and urgent care with over 10 years of experience.
What is your favorite quote? "Carpe diem" and "Be strong enough to stand alone, be yourself enough to stand apart, but be wise enough to stand together when the time comes."