Anyone who has endured a big move, especially to a different town or state, knows the frustration of arriving to your new empty home without lights, without cable, or worse, without coffee. Now there is a solution to your moving woes in locally owned company A Warm Welcome.
Launched in early 2016, A Warm Welcome is the result of a 1,000-mile move that owner Christine Bowe and her family made in 2015. She and her husband relocated with their four children from the hamlet of Stony Brook, New York, to Ponte Vedra last July.
"My husband drove down the car and I flew with the children," Christine recalled. "When I arrived it was late and we were tired. I realized we had nothing in the house. It was a pain to have to stop and get everything."
They say the best business ideas come from a problem that needs a solution, which Christine found after this experience. She says, " I wondered if there was a service that would have done it. Then, no cable and no internet for four days, rough with four kids and even for me. After a few months, I decided to see if there was a service and I couldn't find one. From there the idea kind of materialized. This area is growing and there is a ton of new building, as well as people who come for a few months or even for a few weeks. I thought there was a real need for this sort of business."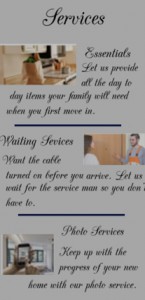 The concept of A Warm Welcome took shape and Christine created three distinct services:
• The Essentials Service – Sign up to have your home stocked with small day-to-day items everyone needs once they arrive from toilet paper and light bulbs to bread and milk.
• Waiting Service – A Warm Welcome will be at your home before you move to meet and grant access to service providers like cable installers and repairmen.
• Photo Documentation Service – Are you having a new home built but can't be there to monitor construction? A Warm Welcome will take and send pictures of the progress of your new home (or existing home renovation).
Christine is also open to offering additional concierge-style services in the future.
Her customers find her service to be convenient and helpful. In fact, her most recent customer was a Realtor who bought the Essentials service as a gift certificate for a client prior to his move into a new condominium. Says Christine, "It couldn't be easier. He will just go on the website and check the items he wants. There are items that are of personal preference and he can add them in the space provided."
All services are easily ordered on the company's website, and arrangements are made via email or phone.
Christine operates a company that is truly run by trusted family and friends. "I needed to know that I could not only trust but could count on my employees, so I recruited some of my close friends to help."
A Warm Welcome is running a 10% off coupon on all gift certificates and services during the month of May. Visit www.AWarmWelcome.info to learn more.
Questions? Contact Christine Bowe directly at Cbowe@awarmwelcome.info or 631-291-6030.