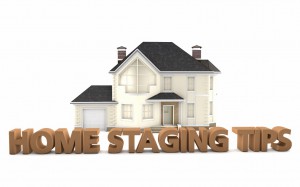 The most successful, competitive and accomplished athletes train with their minds. They can close their eyes and literally picture – and see – how to execute a routine, make a move, lead and score. They are able to imagine themselves in the winner's circle.
After 20 years of home ownership and raising a family, I recently put my home on the market – thinking surely someone would come along and "see" and "sense" what we experienced over those years.
You know from our last three articles, that our Davidson Realty Agents advocate choosing the right "place" for your family, as well as the right "product" (an industry term for house). Our Agents are also savvy about the ever-changing preferences and predilections of home buyers. They know that many of the old adages don't always deliver.
Take for instance the issue of house staging. A seller is usually counselled that they need to purge, purge and then purge some more – before any buyer is allowed to preview the house. Sellers are encouraged to remove all sorts of stuff to make every room and space "seem" bigger than reality. Typically, sellers are told, "buyers don't want to see all of your family photos, mementos and memorabilia – get rid of all that stuff".
Certainly, dispensing with clutter will always be key to enabling a successful sale. But, I submit that there is a sensible – and enjoyable – way to show the living, lifestyle, familiarity of your home, in a way that positively engages buyers and their vicarious imaginations.
Presenting our home for sale commenced with an active purge. However, we studied the home, inside and out, to showcase a happy, healthy, family atmosphere. We were determined to include family imagery. My Davidson Agent really got in tune with how we wanted to offer our home for sale – and encouraged our different, more personal approach to the staging process. Our Agent's support, buy-in and experienced advice helped us get comfortable with the major change we were undertaking – yes, you know the one – "downsizing".
An athlete senses the course, sees the route, feels the timing, and imagines themselves in the place.
From an initial showing of our home, an Agent told us that their buyer said; "they can see themselves living there". Bingo! That was just the reaction we were hoping for.
Be wise – there may not be the need to stage your home to look like a builder's model. Be smart, and sensitive – promote your place, your home's livability, the manner and style of your ownership. Let some personality shine.
With the partnership and guidance of a Davidson Agent, you will be well-served – whether looking to sell or buy. (904) 940-5000