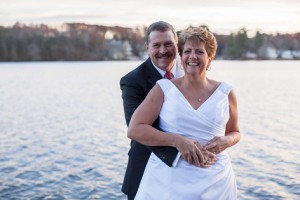 Like many residents who settle into the World Golf Village area, Lynn and Craig Stambaugh were attracted to our area's warm sense of community, great location, and abundance of golf.
Lynn, a registered nurse working in IV home care, and Craig, a mechanical engineer who works on fighter jets, initially owned World Golf Village property about 10 years ago but opted to sell it. However, when they began considering a place to live when they retire, World Golf Village stood out as a great option. As Lynn says, "We came down in 2012 and there were some beautiful lots for sale, so we took the leap…again!"
The couple moved into OakGrove in last year and have come to enjoy all that World Golf Village has to offer. We recently caught up with Lynn to learn more.
What made you choose OakGrove as your new home? First of all, we LOVE the WGV! I owned some property here about 10 years ago but decided to sell it. When we started to consider where we wanted to be when we retired, we took another look at Saint Augustine and The WGV.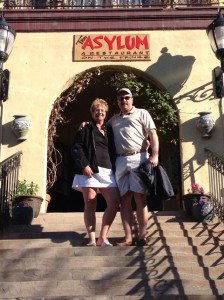 What do you like best about living in World Golf Village? That is really hard to pin down…there is so much. Of course, my husband would probably tell you the golf course, but it is so much more than that. Although we both love to golf (frankly, he golfs…I'm not sure what you call what I do), and who could ask for a more beautiful course, there is a lot to love here. We love to walk and cycle around the neighborhoods, we spend time at the pool and the gym, as well. The people here are great; warm, friendly and helpful. It is a very welcoming community.
Where are you from originally? My husband, Craig, is from a tiny town in Illinois, Vermont; population 800. He moved to southern Florida when he graduated from college and then his job transferred him to Connecticut around 2000. I am from a suburb of New York City, New City, NY, and moved to Rhode Island with my family when I was 15. I lived in Rhode Island until Craig and I got married in 2013, when I moved to Connecticut.
Tell us a little about your family. We are a blended family. Craig and I got married in 2013. He has 3 children; Jess (31), Angy (29) and Craig Jr. (28). Jess is an artist and lives in North Carolina with her boyfriend. Angy is an engineer, like her father, and lives in Virginia with her husband of 1 year, and CJ is still loving life in Connecticut. I have 2 children; Brian (31) and Kristin (28). Brian is living in the UAE with his wife and is a civilian working to support our military. Kristin works in HR and is living with her brand new husband in Maryland.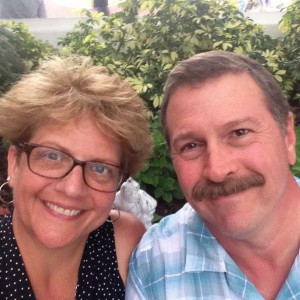 What do you like to do in your free time? First of all, we need more free time! Besides what we have already mentioned, we like to kayak, got to the beach and spend time with family…a bit corny, but true. We are looking to start traveling more. We are headed to Hawaii in the near future; Italy, the UAE and Cancun are in the works, as well.
What was the last movie you saw? What did you think? Beauty and the Beast. I loved it but I suspect hubby wasn't quite as thrilled with it as I was. He did like it, though!
What is your all-time favorite song? Don't laugh, the first thing that comes to mind is Paradise by the Dashboard Light by Meatloaf.
If you could travel anywhere in the world, where would you go? We both agree on this one, Italy. Hopefully, we will be there next fall! My mom's family is from Florence, Italy and she has a cousin who still lives there. We plan on visiting him next fall.
Welcome to World Golf Village, Lynn and Craig!