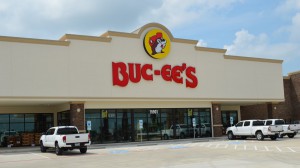 Thirty five years ago, in Lake Jackson, Texas, a cute little red-capped beaver signaled the opening of a convenience store by Arch "Beaver" Aplin III and Don Wasek. Their humble enterprise has morphed into a Texas chain of 32 impressive, if not gargantuan, retail stores – featuring fuel, coffee, beverages, beef jerky, snacks, car washes, prepared foods and specialty gifts along with the "best restrooms" in America. Their #1 best-selling item is their proprietary caramel and butter-glazed corn puffs known as "Beaver Nuggets". Beef jerky products are often a close second (Texas, remember).
Today, Buc-ee's is breaking out of Texas for the first time and has its sights set on the I-95 Exit #323 at the International Golf Parkway entrance to the greater World Golf Village communities.
The planned "traveler's rest" is to include 120 gas pumps (yes, 120), copious car parking (trucks and 18-wheelers are NOT allowed) and a +- 52,000 SF store (same size as the Publix at IGP/SR 16/Pacetti Road). The +- 13.7 acre site is located at the southwest corner of the I-95 interchange, off of World Commerce Parkway at Prosperity Court.
One thing is for sure – should the proposal successfully manuver the County review gauntlet and actually get built – the Interchange will be newly landmarked by their presence, visibility, operations and repeat customers. I believe some of their approval hurdles could include review and approval of such items as signage, site design, landscape embellishments, ingress/egress provisions and possibly a requirement for I-95 Exit #323/IGP ramp and/or intersection improvements.
True, the scale of the facility along with its operational dynamics are more conducive and enticing to the regional traveler. If that remains the case, the existing gas, convenience and food stores could be relieved of Interstate-induced demands so that they can cater directly to the community and neighborhood populace. Additionally, passing customers drawn to the area by the lure-of-the-beaver may be inclined to patronize other businesses and become familiar with the attributes and assets of our area.
Remember – "good growth is good". Growth that is fueled by successful, experienced, well-financed owners/operators usually spells "good growth". Purpose-driven growth can be mutually-beneficial. Speculative growth can be a hollow-burden that saps surrounding values. When the NIMBY-challenge barks (Not-In-My-Back-Yard), I think it best to be directed at the later, not the former.
The jury is still out. The County is just now commencing reviews. Zoning and land-use regulations are far different and more stringent here in Florida and St. Johns County than just about anywhere in Texas.
Time will tell. Signs will promise. Buc-ee's establishes branded billboard advertising campaigns in proximity to their stores. If all goes well for them, pretty soon you will see their Interstate messaging which includes such gems as; "Don't Pass Our Gas", "Clean Restrooms, We Guaranpee It", "Don't Worry, P Happy", "Ice, Beer, Jerky : The 3 Food Groups".
In the meantime, they will be hoping that the County and the Region will agree with one of their other favorite messages; "Worth The Wait".