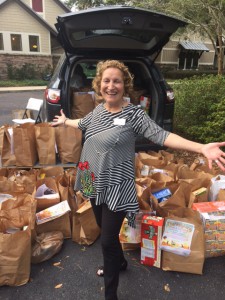 Davidson agent Mirtha Barzaga hosted a Thanksgiving donation drive in Heritage Landing on Saturday, November 11, to benefit the Emergency Services & Homeless Coalition of St. Johns County. Donors brought hundreds of bags of food, supplies and toys for families in need.
Barzaga was joined by several volunteers including students from Nease High School's Junior ROTC and Coaltion volunteer Sergio Quintanal (pictured).
"My sincere thanks to everyone who came out and showed their generosity," said Barzaga, a top performing Davidson Realtor. "Since Hurricane Irma, the Coalition has experienced an increased need for everything a family needs, so every little bit helps."
Homeless Coalition assists chronic homeless families with children in St. Johns County with housing and programs that lead to self-sufficiency.
The drive was co-sponsored by Vesta Property Services, Inc.