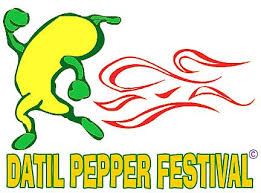 How is the Datil pepper like St. Augustine? We are both fairly small and delectably sweet with lots of spicy flavor, and we share a rich First Coast history! 
To celebrate this very special little pepper, the UF/IFAS Extension St. Johns County Agricultural Center will host the 12th Annual Datil Pepper Festival this weekend, October 5-6. The event is free for all and parking is free as well.
The festival's main attraction is the Datil Pepper Cook-Off between local restaurants. Pay just $1 and you can sample each restaurant's Datil pepper dishes, and then vote for your favorite dish from each category. Awards will be given to restaurants for "People's Choice" as well as overall winner based on professional judges.
Also, check out the contests for best amateur Datil Pepper hot sauce and best jelly. Vendors will be on hand selling Datil-flavored treats, plants and much more!
**Gift idea alert!** The holidays are fast approaching. The Datil Pepper Festival is the perfect place to buy local and find holiday gifts that are unusual and represent the flavors of the First Coast!
Described as "complex, hot and fruity" the Datil is St. John's County's official plant! Here are some more neat facts about the Datil pepper:
– Nearly all of the Datil peppers grown in the U.S. are produced right here in St. Augustine.
– The Datil pepper can range between 100,000 and 300,000 Scoville units, which is at its weakest 12 times hotter than a jalapeño. The Datil's heat is about on par with the habanero pepper.
– Stories widely differ on the pepper's origin, some saying the Datil was brought to St. Augustine from Spain; others say it may have originated in Chile or Cuba. Others maintain the pepper was brought to the U.S. via the African slave trade. Its true origin remains unknown.
– The datil pepper is popular in many recipes on Spain's island of Menorca, including seafood dishes, soups and stews, hot sauces, jellies and mustards.
The Datil Pepper Festival will run Saturday 9 a.m. to 4 p.m. and Sunday 10 a.m. to 3 p.m. The St. Johns County Agricultural Center is located at 3125 Agricultural Center Drive (on the St. Augustine Outlets exit). For information, call 904-209-0430.