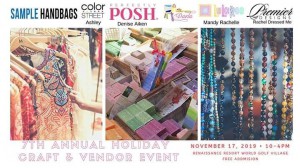 With the bustle of the approaching holidays, it is easy to look to convenient retailers for finding gifts and holiday home décor. Spend a couple hours on Amazon.com or an afternoon at Town Center and you've knocked out half your Christmas list—video game for your nephew, AirPods for your sister and gift cards for your friends. While generous, these gifts aren't really thoughtful.
But there is a solution! The 7th Annual Holiday Craft & Vendor Event is coming to World Golf Village this Sunday, November 17, from 10 a.m. to 4 p.m. This is the perfect place to find gifts that are refreshingly creative, fun, beautiful, handmade, and from the heart by local businesses and artisans!
The free event will feature more than 130 vendors in the gigantic conference facility at Renaissance Resort in World Golf Village. Peruse vendors offering home décor, soaps and fragrances, clothing and accessories, apothecary oils and lotions, jewelry, plants, stationary, beauty products and cosmetics, hair products, candies, baked goods, books, art, pet products, kitchen ware and more. You will be surprised at how many times you'll stop and say, "Hey, that would be a perfect gift for (insert name)!"
Just some of the vendors include The Pampered Chef, Paparazzi – Lani Jewels, Lila Rose Haircessories, LuLaRoe Mandy Rachelle, and Perfectly Posh.
Bring the kids to meet Santa for free and get a photo as well as meet other characters like Winnie the Pooh and Star Wars characters!
In addition to swag bags for the first 50 guests, the event will have door prizes throughout the day. A Holiday Toy Drive & Charity Raffle will also be held during the day to benefit Fostering Connections St. Johns. Bring any unwrapped new toy to the event and receive a re-usable shopping bag and 1 Free ticket for the event raffle.
The Renaissance Resort is located at 500 Legacy Trail in the heart of World Golf Village.  The event is presented by Jacksonville Business Connections.