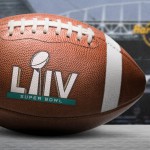 As the Kansas City Chiefs prepare to take on the San Francisco 49ers in Super Bowl LIV, World Golf Village residents are preparing for their own game day festivities!
For die-hard football fans, all that's needed is a platter of chicken wings and a TV. But for everyone else, a great way to include all guests is to host fun Super Bowl party games, especially the prop bet game.
Rather than trying to guess point spreads or receiving yards, this version levels the playing field (pun intended) so everyone has a chance no matter their football knowledge—or lack thereof. You can even invite the kids to participate
The game is really simple. Create some categories in which guests can guess at the outcome. Here are some examples of betting categories your guests might enjoy:
How many "dad jokes" will Terry Bradshaw make during the pregame show?
What color jacket will commentator Joe Buck be wearing?
Will Demi Lovato take over or under two minutes to sing the National Anthem?
Which team will win the coin flip?
What company will be advertised in the first commercial after kick-off?
How many times will commentators mention Miami's weather?
Will Patrick Mahomes throw a "no look" pass?
Which team will score first?
What song will Jennifer Lopez/Shakira sing first during the halftime show?
How many songs will be performed during the halftime show?
How many Super Bowl commercials will feature a dog or cat?
Name one non-athlete celebrity who will be shown at the game.
How many times will "NFL 100" be said during the game?
What color will the Gatorade be that's poured onto the winning coach?
And of course, who will win Super Bowl LIV?
Simply have all participating guests write down their guesses before the game begins. Collect the answer sheets and tally results at game's end. Announce the winners to much fanfare (you may even hand out fun little prizes or gag gifts).
Super Bowl LIV airs on FOX this Sunday, February 2, at 6:30 p.m. Have a fun and safe Super Bowl Sunday!