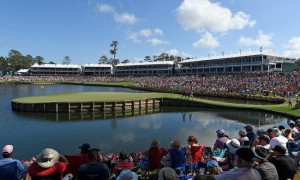 The First Coast is ramping up for the 2020 Players Championship from March 10 to 15 at TPC Sawgrass in Ponte Vedra Beach. Whether you'll be attending the tournament or watching at home, there are several new changes being implemented to note.
See every shot by every player
First, every single shot by every single player during golf's unofficial fifth major of the season will be broadcast all week from about 120 cameras set up throughout the course. To see it, you must be a subscriber to PGA Tour Live on either NBC Sports Gold or Amazon Prime.
If you're a golf fan, it looks to be well worth it! You will be able to select which player you would like to follow as well as switch between players during the broadcast. According to the PGA Tour, the company is hoping this new feature will be something they can promote at every PGA Tour event going forward.
Track shot trails through TourCast
The PGA Tour will also launch a new and improved TourCast, which allows you to see the shot trails of every ball hit. Using the TourCast, you will receive access to on-demand video highlights and ShotLink Data on the PGA Tour's mobile app as well as theplayers.com.
Mobile-only and day-specific tickets
read more +