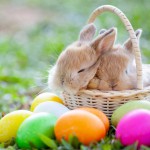 There is no doubt that this year's Easter celebration on Sunday, April 12, will be like no other we've ever had. The great thing is people are getting very creative with their celebrations!
Many churches are streaming their services online and drive-in style services have popped up around the country. Families have also taken to apps like Zoom and Skype to be "together" during these holidays while complying with social distancing guidelines. Seeing everything from virtual Easter egg hunts to family gatherings via Facetime, it is clear we as people are nothing if not resourceful.
Here are some other ways you can connect with loved ones this holiday weekend:
Organize a neighborhood Easter parade. Many communities have Facebook pages where activities like this are planned. Neighbors may decorate their cars and golf carts, meet at the community clubhouse and conduct a slow parade around the neighborhood playing music and waving hello—a special treat for anyone who cannot leave their home!
Live in the King & Bear? The community will have an Easter Bunny Drive-by on Easter Sunday. Check out the K&B Facebook pageto learn more and make sure he drives by your house!
Set up a "Bear Hunt."This is a new tradition this year in which neighbors are encouraged to place a teddy bear in one window of their house and children walk down the street to try and locate them. Other communities are doing a similar twist on an egg hunt by printing a large colorful Easter egg and taping it somewhere on the outside of their home so kids walking by can spot them.
Surprise a loved one with food delivery.  What better way to brighten someone's Easter than have their favorite dish sent to their home? Grubhub and Door Dash will deliver from virtually any restaurant and is a great surprise for anyone.
Host an indoor egg hunt.If you've ever experienced a rainy or excessively hot Easter holiday, an indoor egg hunt is nothing new to you. Designate one room of your home or make everywhere—including the yard—fair game, and let the game begin!
Take in an Easter movie marathon.After a holiday meal and egg hunt, settle in and enjoy an Easter-themed movie—that's right, there are actual Easter movies! Some of the most popular choices include The Greatest Story Ever Told, Jesus Christ Superstar, The Ten Commandments and The Passion of the Christ. If you have little ones, big Easter movie hits include Peter Rabbit, It's the Easter Beagle Charlie Brown, Hop and Wallace & Gromit: The Curse of the Were-Rabbit.
Have a safe and happy holiday weekend!