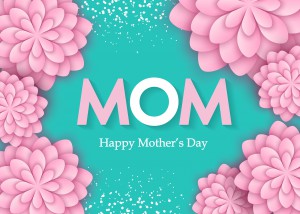 Mother's Day is fast approaching (Sunday, May 10) and we can all agree this year's special day will be a little different. While we may not be able to take Mom out to eat or to the day spa due to social distancing guidelines, there are lots of creative ideas out there to make her feel special!
Here are some creative ways to make this year's Mother's Day even more extraordinary than any other year:
Make a picnic for Mom.While going out to eat is not in the cards, you can plan to go "out" to eat at a nearby park or even your backyard. Everyone will enjoy getting out of the house for some fresh air and a relaxing picnic. You can make her favorite meal at home or, if cooking is not a good option, plan to arrange delivery or takeout ahead of your excursion
Create a memory scrapbook.Pull out your dusty photo albums and transform old pictures of Mom into a new collage. Gather the whole family to peruse together, asking questions about her younger self—old jobs, schools, hobbies, travels, friends, even old fashion choices! Mom will love the trip down memory lane.
Treat her to a Mom Movie Marathon.Busy mothers do not often make time to sit and relax, much less take in movies they have been wanting to see. So, help her to chill by popping some popcorn and putting on a movie (or two) you know she's been wanting to watch. Be sure she knowns the Movie Marathon rules – no laundry, no cleaning, no dishes, just chilling!
Wash Mom's car.While flowers and gifts are wonderful, mothers often just want things to be clean, including her car. If you're not able to wash it yourself, there are services to take care of that for you (check out Easy Breezy Carwash – staugustinecarwash.com). There's nothing like being surprised with a clean ride!
Create an in-home spa & happy hour!While going to the spa might not be an option, creating a spa experience at home is possible. Why not combine it with a happy hour as well? Put on mood music, light candles, and make a menu of services (facial, massage, pedicure, etc.) as well as a cocktail menu. Then let Mom choose how she wants to spend her special day! She will get a kick out of the kids being involved whether they are applying a mud mask to her face or massaging her feet!
Despite the pressure we often feel to go big on Mother's Day, most mothers just want to relax and enjoy the day without worrying about responsibilities. Help Mom enjoy her special day with one of these simple yet creative at-home gestures.
Happy Mother's Day!