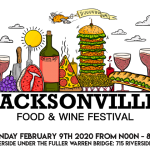 If you enjoy spending weekend mornings at Riverside Arts Market perusing the vendor booths, sampling eats and listening to live music, you are in for a treat! On Sunday, February 9, the city's inaugural Food & Wine Festival will hit the market grounds from 12 to 8 p.m.
Visitors can sample more than 60 wines from lots of Northeast Florida's top restaurants and food trucks.
Also on hand will be more than 40 local vendors, live art installations and live bands on the waterfront stage including Chelsey Michelle (12 p.m.), Evan Michael & The Well Wishers (1:45 p.m.), The Band Be Easy (3:30 p.m.), and Chris Thomas Band (6 p.m.).
General public admission is free, and guests can purchase food and beverages directly from the on-site vendors. All concessions and most vendors are cash only (ATMs will be set up around the grounds).
read more +