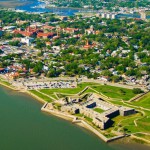 Twenty-two years ago, in the Spring of 1997, I moved my family to North Florida. We started our family in Boca Raton, Florida, then moved to Laguna Beach, California. Prior to the Centennial Olympic Games, we relocated to the Buckhead community in Atlanta, Georgia. After the Games, we decamped Atlanta for Ponte Vedra Beach. Once our children were literally off-and-running with their careers, we down-sized into one of Jacksonville's historic neighborhoods, first platted in 1921.
Before coming here, we did enjoy our lives in those very pretty, and often celebrated, places.  It is true – wherever you are – it is what you make of it. In that regard, it is extremely easy to make our place thoroughly enjoyable. Here are a few things that are extraordinary about this place:
10. Regionally, we are steeped in history, heritage and traditions – from the settlement of St. Augustine in 1565 to the friendly, southern hospitality of today.
9. Friends and family are eager to come for visits – knowing there are numerous local and/or near-by unique events to experience and interesting destinations to explore.
8. The citizenry is active and engaged with a business, manufacturing and military legacy creating a viable, strong economy and a safe and secure community.
read more +