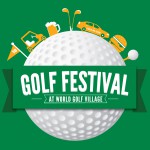 To mark its 20th year, World Golf Village will hold a Golf Festival throughout the community this weekend. The event is free to the public and features interactive activities with something special for golf fans of all ages!
Food and beverages will be available for purchase. Here are some of the festival events:
Thursday, October 11
The Golf Collector's Society will host an auction (open to the public) from 5 to 9 p.m. at the Renaissance Resort.
read more +