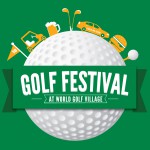 To mark its 20th year, World Golf Village will hold a Golf Festival throughout the community this weekend. The event is free to the public and features interactive activities with something special for golf fans of all ages!
Food and beverages will be available for purchase. Here are some of the festival events:
Thursday, October 11
The Golf Collector's Society will host an auction (open to the public) from 5 to 9 p.m. at the Renaissance Resort.
Saturday, October 13
The Golf Collectors' Society Tradeshow will take place at the Renaissance Resortbetween 8:30 a.m. and 5 p.m.
Guests will enjoy free admission to the World Golf Hall of Fame and putting between 10 a.m. and 6 p.m. The Hole-in-One Contest Challenge Hole will also be available.
At the Slammer & Squire, golf clinics will be held utilizing the state-of-the-art Trackman launch monitoring system. Slammer & Squire will also feature a Demo Day with brands like Callaway, TaylorMade and Ping.
Family Fun Zones will be set up between 11 a.m. and 3 p.m. at the Slammer & Squirewith participation from The First Tee, PGA TOUR Superstore and Topgolf, including a bounce house, face painting and Italian ice.
At 3 p.m. Slammer & Squirewill host free juniors golf.
Sunday, October 14
The "Be a Legend" golf tournament, a four-person scramble, will take place beginning at 9 a.m. at the Slammer & Squire. $300 per team (all-inclusive). Click here for more information.