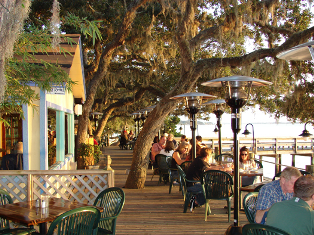 If you doubt how fortunate we are to live in Florida, you should go spend an afternoon at Caps on the Water in St. Augustine.  It is located on the Intracoastal Waterway and no matter if you choose to dine inside or out on the large deck, you are sure to have a spectacular view of the sun setting over the water, but if you sit outside, you are treated to the ocean breeze floating in from the Atlantic.  The restaurant began its existence as a fish camp back in 1947 and was converted to a restaurant in 1981.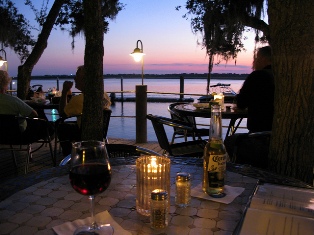 Ambiance is an important key to having a spectacular dining experience and Caps definitely fulfills its goal to give you a taste of traditional Florida fare.  Don't let its rustic appearance fool you, with over 400 wines to offer, Caps has been on the Wine Spectators Award of Excellence for over five years.  You might feel like just hanging out at the oyster bar or trying one of their signature dishes like Clams Linguini, Pear Ravioli or my personal favorite, Vanilla Grouper.   It is hard to go wrong with their selection of "new coastal cuisine."  Their website touts that Caps is the place where "Palatka meets Ponte Vedra."
Growing up I can remember many a Sunday afternoon drives and how my sisters and I dreaded them.  I think if the destination would have been a stroll down A1A ending in dinner at Caps, we would have had a whole different outlook.  Let's just face it, every Sunday drive should always end at Caps!