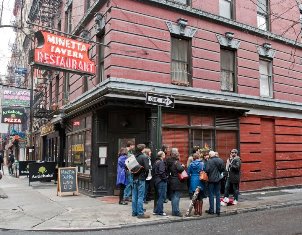 There may be no better way to experience the food and culture of the original neighborhoods of Manhattan – than to indulge in tour led by Foods of New York Tours.
Foods of New York Tours was established in 1999 and by many critical accounts is the ultimate food and cultural experience – not only in Manhattan, but throughout the country. The tours truly go off-the-beaten-path and will keep bringing you back to the neighborhoods over and over, to discover and explore more of their authentic character.
Currently, Foods of New York Tours offers five different excursions, including Original Greenwich Village Food and Culture Tour, Chelsea Market / Meatpacking District Food and Culture Tour; Central Greenwich Village / SoHo Food and Culture Tour,  Nolita / NoHo Food and Culture Tour and the Explore Chinatown Food and Culture Tour. They also have a unique, sit-down, culinary dining experience to relish the historical and cultural aspects of Japanese foods, aka the Sushi and Japanese Tapas Tasting Event.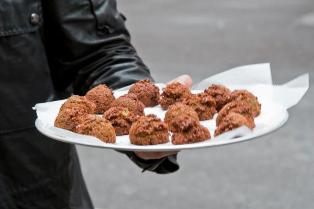 I have been on three of the tours and can, without reservations of any kind, recommend them. My first introduction was on the Original Greenwich Village Tour. We followed that with the Explore Chinatown Tour. This spring, we returned for the Central Village Tour.
Each tour group is limited to sixteen, adult participants – making it an easy and cozy group for the guide to accommodate. And accommodate, they do.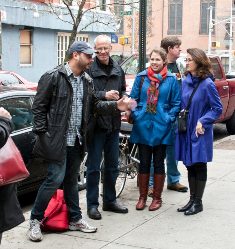 We spent between 3 and 3 ½ hours on each tour – with numerous sit-down dining events, as well as on-the-street, stand-up tastings when the proprietor's shop was small scale. We went to restaurants, bistros, take-outs, bars, cafes, shops, clubs and theatres. Mostly we sampled food and drink – but some locations were for gaining knowledge for a return visit. We were always offered hand-made-that-morning, fresh, specialties-of-the-house. Some of the offerings were nationally and internationally renowned. The food is choreographed as a sort of moveable-feast so that you begin with h'orderves, continue through more hearty items and finish with a dessert. Every person is assured their share with many opportunities for more. Along the way there are opportunities for signature drinks. The total gustatory experience will leave you comfortably and appreciatively sated.
As an example, the Explore Chinatown Tour opens up tremendous choice, including bakeries, specialty food shops, tea houses, gift and provision stores, herb and health food shops, banquet style dim-sum, fresh prepared dim-sum, Shanghainese dumplings, nostalgic Chinatown restaurants, authentic vegetarian restaurants and a variety of regional styles, including Mandarin-style, Hong Kong-style, Cantonese-style, Taiwanese-style, Southeast Asian-style and Fujianese-style. That is an incredible array – all within the streets of Chinatown that most visitors rarely see or might venture into.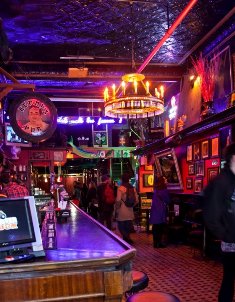 The Greenwich Village and Central Village tours were equally impressive – since they revealed dozens of establishments that most folks would be inclined to just walk past. Our guides taught us about the not-to-be-missed live music venues and the places that are the recognized landmarks and institutions in the neighborhoods. Proudly, the guides celebrate the family-lineage of many places that have been in business for over a hundred years. On one tour, our guide gave us some "insider" information about an un-advertised, word-of-mouth-only, speak-easy and the protocol of how to enjoy it. We returned late one night to act like our version of the in-crowd. That was very cool.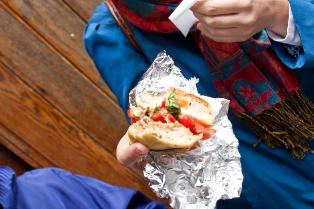 The guides for Foods of New York Tours are amazingly accomplished and expertly-versed in both the food and cultural aspects of the neighborhoods as well as their history, heritage and traditions. The guides have a showmanship quality with a genuine love and admiration for their work. They make everything come alive and are able to detail recipes and preparation techniques for the true foodie in you. You might inquire about Kurt or Rahim's availability and I guarantee you will have a memorable history lesson, friendly experience and an unrivaled tasting trip.
Another benefit offered by Foods of New York Tours is their proprietary discount tickets. Each tour provides a map and address booklet which often contains coupons, redeemable upon your return to the shops and restaurants. The maps and addresses will serve you well on any and every return trip to the city.
To find out more and to secure reservations, go to www.foodsofny.com or call 212-209-3370. Your friends and your family members will thank you profusely.