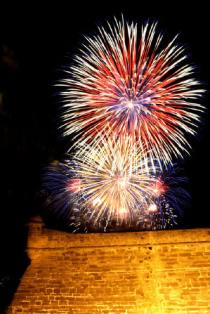 The Fourth of July is all about patriotism, tradition, family fun and of course, fireworks! St. Augustine has all of these and more, so what better way to celebrate our nation's birthday than in America's oldest city? Thousands of local residents will be out for the annual fireworks show over the Matanzas Bay. Located in the heart of downtown St. Augustine, this event boasts one of the best pyrotechnic displays on the east coast.
The first thing you should know is what the traffic situation will be like. With the constant growth in attendance, there will be some significant road closures and detouring to accommodate the large crowds. Starting at approximately 8:30 pm, the St. Augustine Police Department will be closing many of the roads in and out of downtown as a safety precaution. Many locals nearby have been riding their bicycles to the event to bypass the large number of vehicles. Before 8:30 pm, parking on city owned parking lots and on the street will be no charge. The Historic Downtown Parking Facility is a great spot to park as well; it holds 1,200 cars and has a rate of $10 per vehicle entry. I highly suggest getting to downtown as early as possible, so parking will not be an issue.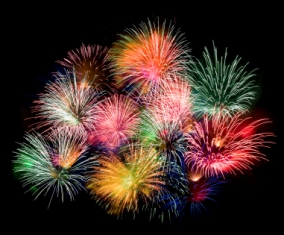 Before the fireworks begin there are plenty of activities, outdoor concerts, and great food to enjoy to soak in the great atmosphere of St. Augustine!  Staring at 6 pm one of the areas most well known bands, The All Star Orchestra will be playing a free concert at Plaza de la Constitución. The concert will run until 8 pm and will be jam-packed with swing and of course, the patriotic classics. Patrons who attend the show are encouraged to bring lawn chairs or blankets to sit on, so you are able to relax and enjoy the show in comfort.
For food, you have to try one of St. Augustine's classic restaurants. Just to name a few, I recommend A1A Ale Works, The Conch House, Raintree Restaurant Seafood & Steakhouse, Harry's Seafood, and O.C. Whites. Most of these restaurants are near the water, so they would be perfect for the fireworks display.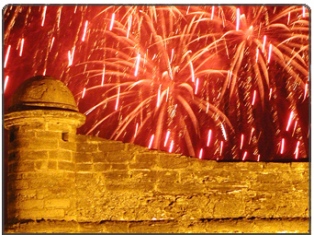 The fireworks start at 9:30 pm! The 20-minutes display is choreographed to music that will be projected by the stereo system around St Augustine, which will turn the whole bay front from Castillo de San Marcos National Monument to the Bridge of Lions into a theatre of visual and audio excellence. Boaters are encouraged to show up for a one-of-a-kind view from the bay itself. Marine Patrol and St. Augustine Police Department have sectioned off a large area of the bay for safety precautions, but there is still plenty of room in the north part of the bay for boats. Also, there are several exposed islands where boaters can come ashore and watch the firework display.
For more information on the St. Augustine fireworks display please visit http://www.staugustinegovernment.com/the-city/featured-stories-archive/July42012.cfm.  I hope everyone has a safe and fun Independence Day!