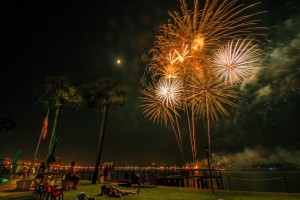 Fireworks Over the Matanzas is widely considered to be the best 4th of July light show in Northeast Florida. This year's festivities, beginning at 6 p.m. on Thursday, are sure to dazzle.
However, parking for the event can be a real challenge. Plenty of spectators choose to arrive early in the day to enjoy the music, food and fun—and avoid the gridlock. That's a great option! Local favorite The All-Star Orchestra kicks things off at 6 p.m. with a two-hour show of big band and swing music at the gazebo at Plaza de la Constitucion.
Fireworks light up over Matanzas Bay beginning at 9:30 p.m. and last about 20 minutes. Set to patriotic music on a sound system installed on the bayfront, the show features 5,000 individual shells exploding between 100 and 2,000 feet high.
It's no wonder thousands of spectators ascend to the historic St. Augustine waterfront to see it! If you are planning to attend, here is vital parking information to read BEFORE YOU GO.
read more +