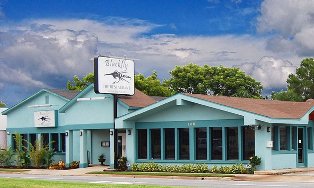 I've been excited to try Blackfly for a while now.  It started when I first noticed the building one morning following a bike ride in Anastasia State Park.  The restaurant sits just east of the Bridge of Lions and I noticed it because it had been painted a refreshing Caribbean blue.  My curiosity continued when I found out that the same folks who own Collage restaurant in downtown St. Augustine were partners in the new restaurant.  Well, my curiosity was quenched Friday, July 20 when my husband and I enjoyed a great evening at Blackfly.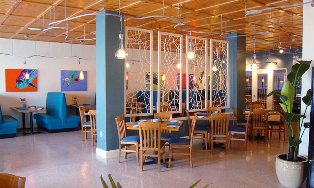 First of all the atmosphere hits a pitch-perfect note of casual beachy elegance.  It's open and airy with fresh shades of aqua and blue.  The booths are large and comfortable and the lighting is bright without being harsh.  The décor showstopper is the artwork.  Blackfly is owned by Vaughn and Jean Cochran.  Vaughn is renowned for his contemporary sporting art, including the internationally recognized blackfly logo. The Cochrans are the owners of the Blackfly Outfitter Retail Store in Jacksonville.  Vaughn's eye catching artwork features contemporary compositions of fish in bright tropical colors.  Don't miss the stunning tarpon mural in the restaurant's Angler's Bar!
Blackfly Chef Matt Duley works with fresh, seasonal products as local as possible.  Everything is made to order, and you can taste the freshness from the cornbread muffins to the fish specials.  We started with the Popcorn Buffalo Rock Shrimp.  It was served with a cucumber celery yogurt dip that was a cool counterpoint to the spice.  Our main courses were a Mahi special with Dirty Rice and a Chutney that was a nice bit of sweetness thanks to pineapple, and the Lobster Mac n Cheese with Truffle which was rich and chock full of lobster.  The meal was delicious from start to finish.  And, we really had a hard time making selections because there were so many tempting items.  I'll be back soon to try the Pan Fried Flounder with Mushroom & Sweet Pea Risotto Cake and the Corn Crusted Fried Shrimp with Pineapple Slaw and Datil Pepper Remoulade.  Steaks and pastas are also on the menu and there are some gourmet pizzas perfect for a lighter meal.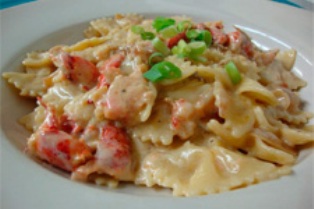 The restaurant features an extensive wine list and full bar.  In fact, the bar space is spacious and inviting – great for a group of friends.  Blackfly is a refreshing addition to the St. Augustine culinary scene. Bon Appetite!
Blackfly The Restaurant is located at 108 Anastasia Blvd. in St. Augustine. Visit www.blackflytherestaurant.com or call (904) 201-6300.